NEWS
Glee's Darren Criss & Chris Colfer: How the Road Was Paved for Gay Teens on TV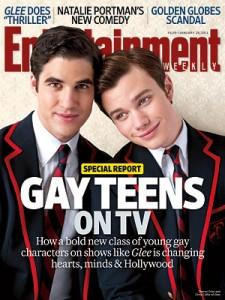 Darren Criss and Chris Colfer star as gay teens on Glee and are beloved by many. Entertainment Weekly investigates the history of gay teens on TV and how the increase in major TV roles is affecting real-life teens.
OK! GALLERY: STARS GET GLEE-FUL FOR HOLLYWOOD STYLE AWARDS
Pretty Little Liars, 90210 and Skins are just some TV shows that have made gay teen story lines major roles on their shows.
To find out how this increase in gay teens on TV is affecting real-life teens who face daily bullying and discrimination, EW spoke with producers, actors and activists who are trying to get more gay teen roles on TV.
Article continues below advertisement
Darren (Blaine) and Chris (Kurt) sang a flirty version of "Baby, It's Cold Outside" on Glee, and became the most downloaded track from the Glee Christmas album.
"That was by far the gayest thing that has ever been on TV, period," Chris tells EW. "Forget AbFab, forget Beautiful People and Will & Grace."
And the creator and executive producer of the show, Ryan Murphy agrees.
"I was proud of that," he says. "I think it pushed the envelope a bit."
OK! GALLERY: THE GLEE GANG GEARS UP FOR SOME FOOTBALL
But some other shows have had to lead the way for Glee to be able to push the envelope as far as they have.
Winnie Holzman, creator of My So-Called life, had a hard time convincing ABC to allow the character Rickie to be on TV when the show premiere in 1994.
"The thing I got the most pushback about was in the pilot, when he puts eyeliner on in the girls' bathroom," Winnie explains. "I remember I mentioned The Crying Game, which had just come out, and Michael Jackson wearing eyeliner to convince the network. So they went with it."
Article continues below advertisement
OK! NEWS: CHRIS COLFER OF GLEE TELLS OK! WHERE HE'LL KEEP AWARD — HIS BED!
And the O.C. faced similar problems with the romance between Marissa (Mischa Barton) and Alex (Olivia Wilde) in 2005.
"We could've had more support in terms of making that a long-term story line," executive producer Stephanie Savage says. "There were definitely some questions about how long we were doing this story. And we did have to do some editing to make kisses shorter and pull back on some physicality of the characters."
For more on the history of "gay teens on TV," check out Entertainment Weekly on stands Friday.