NEWS
Glee's Darren Criss Makes His Debut on Broadway Tonight! Break a Leg Darren!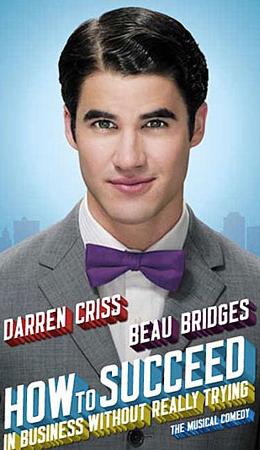 After majoring in theater at the University of Michigan and dreaming one day of being on Broadway, Glee star Darren Criss is about to make that dream a reality. He is making his Broadway debut tonight, to a sold-out crowd, in How to Succeed in Business Without Really Trying, taking over the lead from Harry Potter star Daniel Radcliffe.
Darren couldn't contain his excitement any longer after two weeks of rehearsals, Tweeting backstage pics and a video of himself boasting with enthusiam about his big night. Pointing at the stage, Darren said so excitedly, "I'm gonna be right there. It's gonna be insane! It's gonna be crazy!" But unfortunately, Darren has now removed both the pics and the video from his Twitter account. Maybe the theater producers weren't so happy about him offering this backstage view?
Article continues below advertisement
Article continues below advertisement
And producers of the Broadway hit have lots in store for Darren. The New York Times reports that they are spending thousands of dollars to rehearse and pay Darren for just three weeks of performances this month, in hopes of molding him into a star they could build a Broadway musical around someday.
We are sure his fans are flocking to NYC as we speak to catch the guy also known as Blaine Anderson on the big stage. They are so die-hard for the singer that "Break a leg Darren" is already trending on Twitter, four hours before he hits the stage.
So we will say it too: "Break a leg Darren!"
Do you plan to see Darren on Broadway? Would you rather see Nick or Daniel in the role?