NEWS
Glee's Warblers Call Rebecca Black's "Friday" a "Masterpiece" & Consider Cover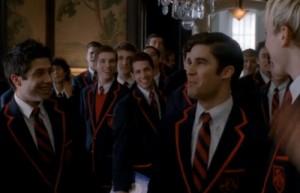 The Dalton Academy Warblers may have lost at Regionals on Glee, but the singers still deserved to be praised and not just Darren Criss and Chris Colfer. The guys who join them in song are the Tufts University Beelzebubs and sharing their thoughts on YouTube sensation, Rebecca Black.
OK! NEWS: GLEE-CAP — WATCH TOP PERFORMANCES FROM "ORIGINAL SONG" EPISODE!
Celebuzz chatted with three members of the all male a cappella group, Eli Seidman, Evan Powell and Kent McCann about starring on Glee and suggested a possible cover for them to do next time — Rebecca's "Friday."
Article continues below advertisement
So what do the guys think of Rebecca?
"Oh my God, yes please, hook us up with her," Eli said.
"The problem is, it's hard to touch perfection," Evan said with a laugh of doing an a cappella version of her song."
"We could never do that song justice," Eli added.
"Everything about it, it's like fine art, it should be hung in a museum," Evan explained.
"I will hereby go on record saying that that is just a masterpiece," Evan said. "I don't know what thought process went through her head, well that's mean I shouldn't say that."
Kent jumped in and explained, "It's catchy, that's what I hate about it!"
"I keep singing it even though I don't want to," Eli said. "I'm sure that song is playing on the way to hell, just blasting."
OK! VIDEO: WATCH REBECCA BLACK DEFEND HER "FRIDAY" SONG ON GOOD MORNING AMERICA
But would they consider singing a cover?
"That's actually pretty genius," Evan said
"I feel kind of bad for her, she's famous because she sucks," Kent said, but Eli added, "Yeah, but she's made it."
"I feel like if her next single comes out and it's good we'll all be disappointed," Evan said with a laugh.
Do you think the Warblers should cover Rebecca's song?