NEWS
Glenn Beck on Japan Earthquake: "Message Being Sent" From God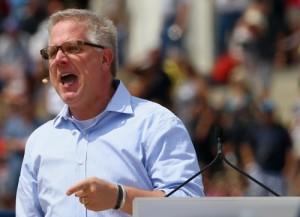 Glenn Beck has just gotten back on the radio waves after taking a vacation and is already making some people mad over his comments about Japan.
OK! GALLERY: EARTHQUAKE & TSUNAMI HIT JAPAN — STARS TWEET PRAYERS & SUPPORT
"I'm not saying God is, you know, causing earthquakes," he said on his radio show (via Huffington Post) on Monday adding, "I'm not not saying that either."
"What God does is God's business. But I'll tell you this, whether you call it Gaia or whether you call it Jesus, there's a message being sent," Glenn said. "'Hey, you know that stuff we're doing. It's not really working out. Maybe we should stop doing some of it.' I'm just saying."
Article continues below advertisement