NEWS
Glenn Beck Responds to Keith Olbermann's MSNBC Exit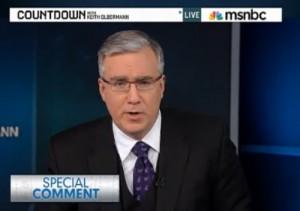 To the surprise of many, Keith Olbermann announced Friday that he was parting ways with MSNBC, abdicating his throne as the left-leaning anchor of one of the network's most popular programs, Countdown. Speculation has risen about Keith's abrupt exit, and of course, conservative host Glenn Beck had a few choice words to share.
Keith shared with viewers Friday night that he would be leaving, as MSNBC was ending his contract. He gave no direct reason why, but his partnership with the cable network was reportedly strained in November when MSNBC suspended him for two days after he made campaign contributions to political candidates, including Rep. Gabrielle Giffords. She was injured in the tragic shooting in Tucson, Ariz.
Article continues below advertisement
OK! NEWS: KEITH OLBERMAN LEAVES MSNBC
Glenn offered his opinion today.
"You can handle mediocre ratings if the guys is not a total pain in the ass," the Fox news political pundit said, via The Hollywood Reporter. "But from every indication Keith Olbermann is the biggest pain in the ass in the world."
"He was impossible to work with," Glenn continued.
He also referred to Keith's show as "easy competition."
Keith has remained diplomatic; however, he did send a cryptic Tweet which may forebode a response to Glenn's comments or an answer to why he left MSNBC (one theory — he plans to run for Senate!).
"At exactly 8 Eastern tonight I will issue my first tweet. Well, other than THIS one :)" he Tweeted.
Watch Keith announcing he is stepping down.
Watch Keith's "Special Comment" on the tragic Arizona shooting on Countdown.