NEWS
Glenn Close: "I Would Love for My Daughter to Act!"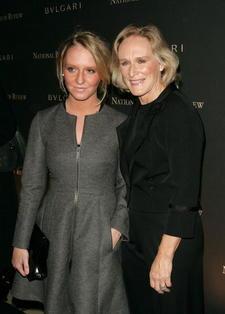 While some celebrities in Hollywood look to shelter their children from the spotlight and nudge them into non-acting career paths, five-time Oscar nominee Glenn Close tells OK! she hopes for a day she can share the marquee with her daughter Annie.
"I would love for my daughter to act," Glenn explained to OK! at an event for her TV show Damages on Monday. "I don't know if she will but I can't think of a better profession."
Article continues below advertisement
As for those acting moms and dads who wish for different lives for their children, Glenn says, "I've never been able to understand why some people do something for their whole life and then decide that they don't want their kids to do it."
In fact, Glenn tells OK! that she could only wish to share the joy of a life on-screen with Annie, who will turn 20 in a few weeks and is currently in college studying art history. "I've had a fantastic life in this industry," she says. "I can't think of a more exciting thing for my daughter to do."