NEWS
Gloriana Singer Says Taylor Swift Gave Her Love Advice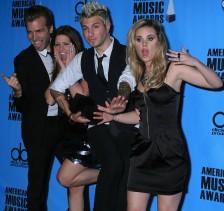 Gloriana took home the breakthrough artist award during the American Music Awards this week, and the golden girl in their corner just happens to be Taylor Swift, who added five more trophies to her prize closet during the ceremony.
The country foursome toured with the Love Song singer this summer, and will hit the road with her again in March.
Bonus: The Wild At Heart crooners have her ear when it comes to love lives.
Article continues below advertisement
Indeed, life couldn't be sweeter for the group, which includes Tom Gossin, Mike Gossin, Rachel Reinert and Cheyenne Kimball, who made a name for herself on a self-titled MTV reality show in 2006 – three years after winning America's Most Talented Kid.
"We like to go hang out on her tour bus," Cheyenne, 19, tells me. "She likes to give Rachel and I guy advice. I'm sure we give her material for her songs."
MORE ON:
Red Carpet Confidential
What's Taylor's best guy advice?
"It depends on the situation," she says. "She was going through some stuff, and she was just like, 'You've gotta keep the mystery.' She's smart. She reads a lot of books. Rachel calls her 'Oprah.' She's like a therapist with advice. She's great."
She continues, "I started seeing a guy – we started dating – and she knew him. We were talking, and she was happy and glad that he and I started dating 'cause she knew him so well. It's cool. She truly gets happy when someone falls in love with someone in a relationship, and she truly, genuinely wants to hear about it. We talked about it one night, and I text her anytime he says something new. She's like 'oh my God!'"
Article continues below advertisement
As for Taylor's own love life, she keeps her lips zipped about loves present and past Taylor Lautner and Joe Jonas.
"She doesn't want to talk about it," Cheyenne says. "She's normally like 'tell me what's going on in your life, tell me what's going on with your guys.' She's very giving with her time, and she's a good listener."
What's something we might not know about Miss Swift?
"I found out that she doesn't use hairspray," she says. "I freaked out when she said that. Her hair is naturally curly, and she curls it. I was like, 'wow, I can't believe you don't use any hairspray, girl.'"
Here's a pic of Cheyenne and I, and Taylor and I.