NEWS
'GMA' Cancels Adam Lambert Concert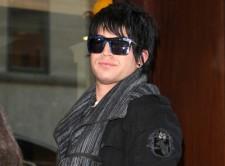 Adam Lambert has certainly ruffled some feathers. Good Morning America has canceled Adam's live concert scheduled for tomorrow morning, Access Hollywood reports. "Given his controversial live performance on the AMAs we were concerned about airing a similar concert so early in the morning," an ABC spokesperson tells Access.
However, Adam will not be shunned from morning talk shows. CBS wasted no time booking him for The Early Show. Adam will discuss his AMA performance and will perform live tomorrow on the early-morning program.
Article continues below advertisement
Adam caused more than a few jaws to drop with his racy AMA performance on Sunday, where the American Idol alum passionately made out with a guy on stage and simulated oral sex, but the rocker isn't about to apologize.
"You know honestly, if I offended some people… it's apples and oranges," he tells Access. "I'm not an artist that does things for every single person. I believe in artistic freedom and expression, I believe in honoring the lyrics of a song, and those lyrics aren't really for everybody either," he adds.
CLICK HERE TO VOTE ON ADAM'S PERFORMANCE AT THE AMAS!
Adam thinks his performance wouldn't have been a big deal, if it had been a woman on stage doing the same kinds of things.
"There's a big double standard, female pop artists have been doing things provocative like that for years, and the fact that I'm a male, and I'll be edited and discriminated against could be a problem," he says.
"People are scared and it's really sad, I just wish people could open their minds up and enjoy things, it's all for a laugh, it's really not that big of a deal."