NEWS
'GMA' Weather Anchor Sam Champion's Father Passes Away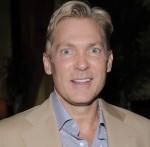 A familiar face to many across America has suffered a great loss: Sam Champion, weather anchor on ABC's Good Morning America, has lost his father Lt. Col. James H. Champion.
"After a life of service to his country and his family, Lt. Col. James H. Champion, U.S. Marine Corps (retired), passed away last night in Houston, Texas," Good Morning America senior executive producer Jim Murphy wrote in an e-mail to the show's staff today. "He was better known to us as Sam Champion's dad. Sam, his sister Teresa and his mom, Sylvia, were all together with the Lt. Col. at the end."
Article continues below advertisement
In lieu of flowers the family respectfully requests any donations in memoriam be made to:
MD Anderson Cancer Center (RE: Lt. Col. J. H. Champion)
PO Box 4486, Houston, TX 77210
or:
Virginia Autism Project at VirginiaAutismProject.org
Our thoughts are with Sam and his family at this time.