NEWS
Going Mobile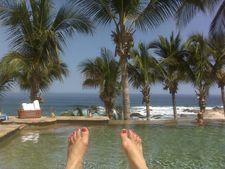 The LG Mobile House in Cabo San Lucas has many celebrity soirees slated to take place here over the summer. Being the thorough journalist that I am, I agreed to come down here for a couple of days to see for myself where the parties will take place, making eventually writing about them easier when the time comes. My job can be so trying ;)
Last night we stayed up late playing beer pong on a surf board in the pool that overlooks the ocean. Last time I played beer pong I was at Dave Annable's house. He's scheduled to come here in a few weeks with his Brothers & Sisters co-stars and I'm sure they'll do the same.
Article continues below advertisement
This morning I got a knock on my door saying that breakfast was available for another hour. It was 11am. Three waiters served us pancakes, fresh fruit and yogurt and eggs any way we wanted them. I wonder if Nicolette Sheridan will wake up just to eat when she's here with Michael Bolten later this month.
In an hour we're getting ocean-front massages. "Disaster Movie' co-stars Carmen Electra and Kim Kardashian will be doing the same Aug. 4. Someone's gotta try them out to make sure they're up to par prior ;)
I'm also getting some work in, working remotely poolside. This is my view. I call this photo "Happy Feet."