NEWS
'Golden Girls' Star Rue McClanahan Undergoes Surgery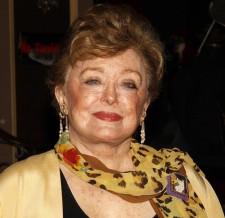 Attention Golden Girls fans (and we know you're out there in big numbers): Rue McClanahan had bypass surgery yesterday in New York, Entertainment Tonight reports.
The Golden Girls star has been experiencing shortness of breath and went in for a physical. Her doctor discovered that she had a heart problem and needed to have bypass surgery.
A rep for Rue reported that Rue's surgery went well Wednesday and she is doing great. Her doctor said the surgery was a success.
Article continues below advertisement
In the next couple of weeks she is expected to be released, but for now is in a New York hospital under observation.
"Rue hasn't lost her sense of humor," Rue's rep said and she is in such good spirits that she's even been accepting new work offers that could start as early as January.
We wish our Golden Girl well!