NEWS
Golfing With Ivanka Trump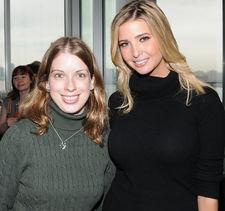 When sends me an invitation to join her for a luncheon sponsored by Callaway Golf Girls Club, I can't refuse. As chicken salad, deviled eggs with salmon and shrimp Caesar salad are passed around, guests tee off miniature-golf style in the penthouse suite of NYC's Chelsea Arts Tower. (Anyone who gets a hole-in-one receives a set of golf clubs — sweet!)
"I like to get out there in the morning of an autumn day and play for three or four hours and not take it too seriously," she tells me. "It's just a lot of fun."
Article continues below advertisement
The Donald's daughter, 26, took up the sport as a means of negotiation.
"I really did use golf as a bonding tool with my father," the Celebrity Apprentice judge says. "I found it was the best way to solicit the right answer out of him if I wanted something. I was like a broken record."
These days, she uses her golf game in business.
"You learn so much about the way somebody handles a situation by seeing them hit a bad putt. You can see what kind of person they are and if this is a person you'd want to do business with. I really have learned to leverage golf personally, professionally and otherwise."
Aside from golf, Ivanka keeps her sleek physique through portion control and moderate exercise.
"I get on the elliptical once a week for half an hour," she says. "I read the newspaper while I'm doing it."
Parting gifts include golf gear — and car service back to the office.
This Trump sure knows how to entertain!
For more on Ivanka, pick up the OK! out now. "At Home With Britney" is the cover line.