NEWS
Goodwill Ambassador Angelina Jolie Gets Back to Work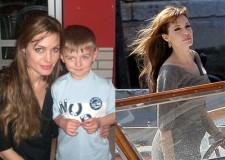 No — Angelina Jolie is not adopting the little Bosnian boy in this picture, but she did take the time to take some snapshots with him and his family earlier this week in Bosnia. Today Angie is back in Venice, busy shooting scenes for her latest film The Tourist. Angie took to the waters in a vintage speed boat, waving to onlookers as she moved along.
Angelina and husband Brad Pitt were photographed with a Bosnian family in a hotel-restaurant in the city of Gorazde on April 3.
Article continues below advertisement
The couple kindly posed for snapshots!
Staying dedicated to her role as Goodwill Ambassador, Angie, with Brad in tow, visited refugees in Bosnia earlier this week in the hopes of finding an end to their suffering.
The couple wanted to draw attention to the 117,000 people who have still not been able to return to their homes since the Bosnia war ended 15 years ago.