NEWS
Gordon Ramsay to Host Foodie American Idol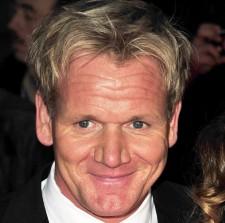 After following Simon Cowell's advice and getting fillers injected into his chin, Gordon Ramsay is ready for TV domination: He's set to host the American Idol of food shows - an amateur cooking contest called MasterChef.
Gordon, 42, will co-produce and star in the program, in which home cooks compete to create the perfect dish. The shouty chef already hosts Hell's Kitchen and Kitchen Nightmares on Fox.
Article continues below advertisement
The MasterChef format has aired in several incarnations in the U.K., with the earliest dating to 1990, says The Hollywood Reporter.
The Australian edition premiered this year and is one of the country's most-watched programs in a decade.
"This is a huge, nationwide search for the best amateur chef in America," said executive producer Howard T. Owens of the show's makers, Reveille.
"It's about people who are lawyers, construction workers and stay-at-home moms but whose real passion is to make great food. This is their shot to prove they have what it takes."
In each season, contestants compete in national auditions by creating a dish for a panel of three judges to earn spots as semi-finalists.
The remaining contestants will compete each week via team-based and individual cooking challenges until only one remains.