NEWS
Gossip Girl: Holiday Dressing:...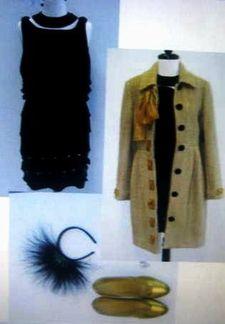 So you're about to go into a coronary wondering how you'll survive the next few weeks without new episodes of Gossip Girl (the series returns to the CW Jan. 5).
Blair Waldorf may be crying over losing Chuck to his self-destructive ways this Christmas, but bet your booty, she'll look good doing it.
Wondering what a gal-in-mourning on the Upper East Side would wear for the holidays, I called up my good friend and stylist Wendy "The Image Lady" Brown, president of FWC Unlimited, to conceptualize the perfect outfit for Season Greetings.
Article continues below advertisement
"Blair's petite frame and impeccable style are second to none," Wendy shares. "Her trademark headpieces and preppy influences pervade her every wardrobe choice. Festive holiday choices easily lend themselves to her style."
Wendy's choice? A Manoush silk fringe and jewel party dress with a pearl collar necklace, topped with Robert Rodriguez tweed coat, smartly accessorized with a Laura Kranitz jewel beetle headband, Nina Ricci pumps and a bow ring.
"There's not a head in the room of any holiday bash that will not be turned by the glamorous sequin shine of this outfit," Wendy exclaims.
And we agree. XOXO!