NEWS
Gossip Girl Stars in Pro-Obama Ad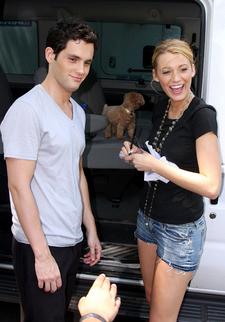 Airing nationally on MTV, Comedy Central and during Gossip Girl, as well as on YouTube, Penn Badgley and Blake Lively star in a new pro-Barack Obama ad made by MoveOn.org. The spot parodies anti-drug PSAs, urging viewers to "talk to their parents" about voting for John McCain.
Directed by Bourne Identity's Doug Liman, the 30-second commercial features the Gossip Girl stars, as well as other young actors warning of the consequences of voting for the Republican presidential nominee.
Article continues below advertisement
"This will be the most important election of our lifetimes when you think about what is at stake. Young people get it, they are voting overwhelmingly for Barack Obama," says director Doug Liman. "Too many of their parents are still on the fence and I thought it was important to make this ad and let my generation and older generations know that the younger generation is clear: they want a future and a country led by Barack Obama."
"Mom? Dad? I found THIS in your room," says Penn in the spot as he holds up a "Drill Baby Drill!" hat.
"Just because other people your age are doing it, doesn't make it cool," says another actor of voting for McCain.
"And if you're ever out somewhere and you're considering voting McCain, just call me. I'll pick you up. No questions asked," Blake implores the camera.
Check it out below: