NEWS
'Gossip Girl' Teasers: Blake Lively & Leighton Meester Play Catch Up With Serena & Blair!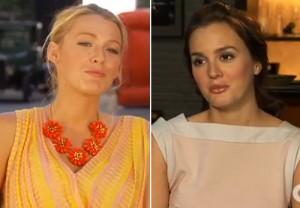 Blake Lively and Leighton Meester are back tonight on the CW in their hit roles as Serena van der Woodsen and Blair Waldorf for the hotly anticipated season five premiere of Gossip Girl! So what drama have Blair and Serena entangled themselves in this season?
At the end of last season, Serena was off for a summer in L.A. visiting her grandma, which turns into a stay in L.A. working on a movie set! And of course there is a new love interest and drama as she pursues her dream!
Article continues below advertisement
OK! GALLERY: BEAMING BLAKE LIVELY IS BACK ON THE SET OF GOSSIP GIRL!
As for Blair, she is settling in to her new life as she prepares to marry Prince Louis! With all the wedding planning and stress, Blair turns to Dan (Penn Badgley) for support.
She is still busy exploring her friendship with Serena's ex!
Also this season, Elizabeth Hurley joins the cast!
Oh... and there is also that mystery pregnancy!
Blake is still a down-to-earth gal though, as she had her parents along for her celeb-studded shopping trip as well. Nothing like mom and to keep you grounded.
Will you be tuning in this season? Catch Blake and Leighton's recaps below and sound off in the comments!