NEWS
Gossiping With Lydia Hearst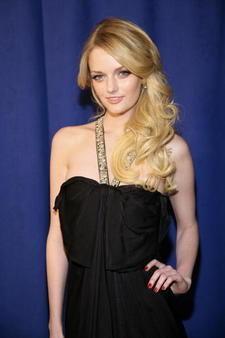 Lydia Hearst is more than just a pretty face now that she's joined the cast of Gossip Girl. The 23-year-old model-turned-actress starts her day at Starbucks with a triple grande skinny vanilla latte before heading to the set.
"It's pretty exciting to be joining the cast especially after being labeled the real-life inspiration, though I'm not sure which character I inspired, especially since I didn't grow up in Manhattan," Lydia tells me.
Article continues below advertisement
The cast, which includes her BFF Michelle Trachtenberg, goes out for dinner and drinks together.
"Everybody really is good friends both on- and off-set," she tells me. "Nobody is like their characters. They're not catty, they're not petty, they don't argue at all. Blake and her boyfriend are absolutely lovely together. I was a little surprised to learn that Ed was English. On set, he has the whole New York accent being all suave, and then we get offset and he's sussed out in his English rocker accent."
She beams with pride about boyfriend Matt Rains, who is a Black Hawk fighter pilot deployed to Iraq. Matt is the brother of Heatherette designer Trevor Rains. She says they had an "instant connection," and enjoy bowling, botanical gardens and walking through Central Park together.
Does she have a quirky side?
"Most people buy shoes and clothing, but I buy a lot of DVDs," Lydia tells me. "It's impossible to choose my favorite. I love every single genre from documentaries, horror, comedy, drama, 80s, classic, I have it all. The last one I saw was Roxanne."