NEWS
Gotta See It GIFs Of the Day: See How Whitney Port's Engagement Would Have Played Out On The Hills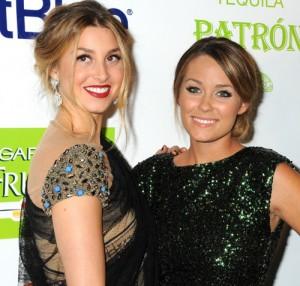 As we reported earlier, Whitney Port is officially engaged! After hearing the news, we couldn't help but wonder—how would the proposal have played out on The Hills? From the sneaky distractions to the big reveal, you know it would be one juicy episode. Find out our take on how the whole thing would have gone down below—and of course there are GIFs involved!
Article continues below advertisement
You know how it goes. To make sure the lucky lady has no idea that a sparkly rock is on the way, the boyfriend has to create some elaborate scheme. We love, love, love The Hills, but you know the girls would have anticipated only the worst outcomes—a breakup, cheating, etc. With that, it's up to the BFF (insert LC here) to keep her mind off the "low-life" beau.
After chatting for hours and going over every single possibility, it's time to forget boys with a margarita filled girls night—talk about the perfect relationship drama remedy! With that, Lauren Conrad, Kristin Cavallari, Heidi Montag, Lo Bosworth and Audrina Patridge would all be on deck to party Whitney's worries away. The story wouldn't be complete without a special appearance from Justin Bobby! Leave it to the staple bad boy to "randomly" show up at the club for the evening's final zinger.
But then, Whitney gets the call that Tim wants to talk and bam—it's the moment she's been dreaming about since she was a little girl! Now it's time to tell the besties which naturally would include loads of champagne, high-pitched squeals and lots of Instagrams snapshots.
News: Lauren Conrad Announces Engagement To William Tell
Until Whitney opens up about what really happened, we're going to stick with our fun rendition. Oh how we wish The Hills cameras were really around! How else can we witness the romantic proposal and celebration?
Are you excited that both Lauren and Whitney are engaged? Tweet us @OKMagazine and comment in the section below.