NEWS
'GQ Australia' Apologizes for Taylor Lautner Gay Question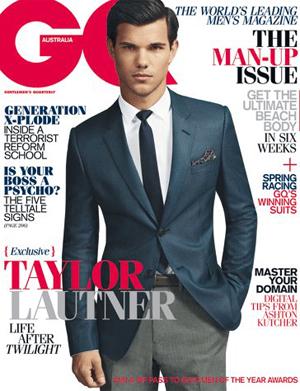 A new interview for GQ Australia with Taylor Lautner has found itself in the spotlight of some controversy. GQ Australia has issued an apology for the question they asked Taylor about his sexuality.
In the interview, Taylor was asked if director Gus Van Sant and writer Dustin Lance Black, who are both gay, hit on him during a dinner the three of them recently shared.
"It's not a coincidence that there was a writer, a director and an actor at dinner," Taylor explained (via MTV News). "No, definitely not. I think they know I'm straight. But they're great guys. They're a lot of fun."
Article continues below advertisement
When the interview hit the Web, Dustin blogged about the interview and the question GQ asked Taylor about him.
"Really Mr. GQ writer? I'm curious, will you be asking all of the handsome actors I've ever had the privilege of working with or meeting if I made passes at them as well?" he wrote. "I'd love to be there when you ask Sean Penn that same question. Or, Mr. GQ writer, were you projecting your own unprofessional desires onto me and Gus? Perhaps? Or worse still, are you a homophobe?"
Well, GQ Australia heard him and decided to issue an apology via Facebook.
"We've seen some of the comments floating around regarding our recent interview with Taylor Lautner and apologise if anyone was offended by anything in the article. It certainly wasn't our intention to paint anyone in the story as a sexual predator," the statement reads. "The point we were actually trying to push was that Taylor is irresistible to virtually everyone — regardless of sexuality or gender. Hence the film crew cheering at his shirtless scenes while shooting Twilight, and Mark Wahlberg deeming him better looking than Leonardo DiCaprio."
Do you accept their apology?