NEWS
Grammy Organizers Reach Deal With Writers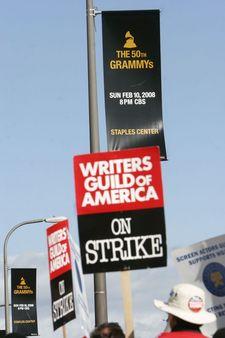 Monday was a victorious day in Hollywood after striking writers announced they had struck an interim agreement with Grammy Awards organizers.
The 'truce' will allow WGA members to write the Grammy ceremony, which is widely considered to be the music industry's highest honor.
"Professional musicians face many of the same issues that we do concerning fair compensation for the use of their work in new media," the Writers Guild said in a statement, adding that it made the decision "in the interest of advancing our goal of achieving a fair contract."
Article continues below advertisement
Last week, the Writers Guild of America — which represents over 10 thousand film and television writers — said it would not picket the music event. That, combined with today's announcement, means the awards ceremony will likely be presented in its traditional televised format.
The Recording Academy, which puts on the Grammy Awards, said Monday it was "gratified" to reach the deal.
"Having our talented writers on the team further ensures the highest level of creativity and innovation," said Neil Portnow, Recording Academy president and chief executive.
The Grammys are set to air Feb. 10 on CBS.