NEWS
The Grass Is Greener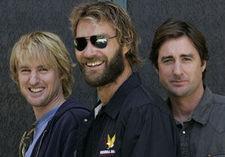 When reports of Owen Wilson's alleged suicide attempt started to trickle in on Sunday, Aug. 26, they weren't only saddening, but a shock. It's been reported that his brother Andrew found Owen in his home with an empty bottle of pill and marks on his wrists suggesting that, if the rumors are true, it wasn't an accident.
The Wilson brothers are universally loved. Andrew, the oldest, is the lesser-known brother who stays out of the limelight and under the radar. Luke is the youngest and has had modest success and public exposure. He's successful, out and about. Recently I was at the Polaroid House in Malibu playing beach volleyball on a weekend when Luke was supposed to be staying there. The word was, "Luke's in the car, en route." Then we looked skyward: There was a small jet flying around with a banner with Luke's actual cell number on it. Johnny Knoxville was rumored to be the practical jokester. Luke obviously wasn't amused. He never came to the house—and changed his cell number.
Article continues below advertisement
Then there's Owen. He's the middle brother, often seen out in LA and New York—a Casanova with the ladies despite the fact he's allegedly broken his nose umpteen times. He wears the imperfection like a badge of honor. Owen is off-the-cuff funny—that happy-go-lucky guy who everyone wants to be around. He's been linked to Demi Moore and Sheryl Crow, but appeared to have met his sunny match when he dated You, Me and Dupree co-star Kate Hudson earlier this year. Shortly after they split earlier this summer he was in NYC for only two days, called a friend of mine and when she had to leave he hit hotspot Tenjune where women were lining up in droves to be near him. Owen seemed to have the world at his feet and his near-permanent public smile would have confirmed his agreement—if not for Sunday's very sad news.
Thankfully, as of this posting, Owen is reportedly in good condition at an LA hospital where his family has been seen visiting all day. He released a statement asking for privacy while he heals. It's my sincere hope that he does and recovers to make us all laugh—and laugh with us again. Movie pages have him slated to star opposite Jennifer Aniston in the film, Marley and Me. That's a pairing we'd like to see—possibly on-screen and off?