NEWS
'The Greeks Season 1,' 'China's Emperor of Evil' And More To Watch On TV Tonight!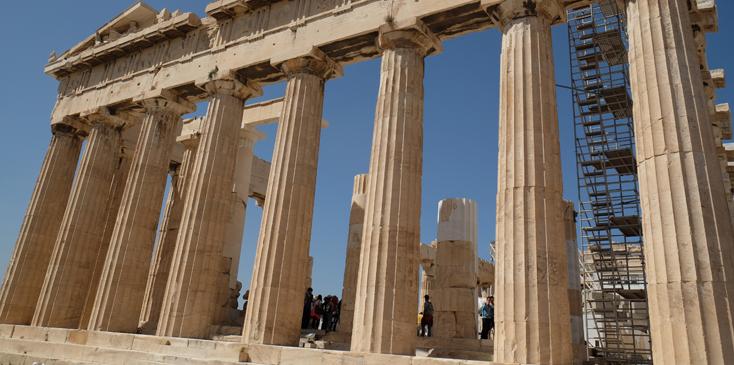 The Greeks Season 1 — Available now on Blu-ray, DVD and Digital HD!
They were an extraordinary people born of white rock and blue sea. They invented democracy, distilled logic and reason, wrote plays to plumb the deepest recesses of the soul, and captured the perfection of the human form in athletics and art. Quite simply, the Greeks created our world. Today, of course, Greece conjures very different images: civic unrest, financial meltdowns, and long ATM lines. But as its ancient history attests, strife and discord are often incubators for greatness.
Article continues below advertisement
China's Emperor of Evil — 8 p.m. EST on Smithsonian Channel
Emperor Wu rose from a lowly concubine to become one of the most powerful women in history - the absolute ruler of China in the late 600s - and the only woman ever to dare call herself "Emperor." She had a bad reputation as a ruthless tyrant and murderer who killed her own child, but was she a victim of the type of sexual politics that brand women political leaders unfairly? Now archaeologists are piecing together a new story as they excavate tombs, palaces and monuments. When Europe was plunged into the Dark Ages, Emperor Wu's China was expanding the Silk Road, building sophisticated trade networks, and creating one of the first truly cosmopolitan cities in the world. Extraordinary artifacts - such as the Phoenix Crown, a priceless headdress glittering with pearls, gold and turquoise - reveal clues to the success of Emperor Wu's 50-year reign. By the end, this indomitable woman in a male-dominated world had transformed China into a global superpower. This program does nothing less than call for her reassessment in history.
American Ninja Warrior — 8 p.m. EST on NBC
The first week of national finals kicks off!
So You Think You Can Dance — 8 p.m. EST on ABC
The top five begin their performances!
Running Wild with Bear Grylls — 10 p.m. EST on NBC
Shaquille O'Neal takes on a major challenge!
Mistresses — 10 p.m. EST on ABC
The drama takes a major turn!