NEWS
Green Day Gets Theatrical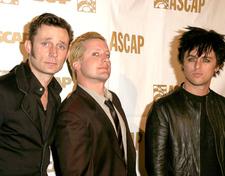 Miss Green Day? Like musicals? Head out to the Berkeley Repertory Theater in California this September – the band's American Idiot album has been adapted into a new musical production.
From Sept. 4 - Oct. 11, fans will get a chance to witness the collaboration between the band and Michael Mayer, the Tony Award-winning director of Spring Awakening.
"It doesn't make a lot of sense," Green Day singer Billie JoeArmstrong tells the New York Times of the partnership in a telephone interview. "But that's what I love about it. When people see it, it's going to be my wildest dream."
Article continues below advertisement
So could the rocking musical be heading to the Great White Way someday?
"American Idiot could certainly make it to New York one day. There might be some fantastic found space where this really wants to live," Mayer says. "Or it might live in a beautiful, big Broadway theater."