NEWS
Gretchen Rossi Speaks Out on Real Housewife Tamra Barney's Divorce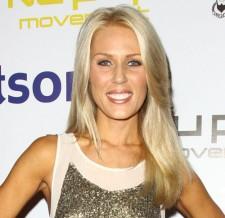 As the Real Housewives of Orange County prepare to move on from their current season amidst some tough issues such as divorce and monetary problems, Gretchen Rossi speaks out to OK! on fellow cast mate Tamra Barney's split with her hubby Simon.
"…I guess well have to see if it's really true," Gretchen reveals to OK! of Tamra's divorce while getting her makeup done by Valerie of Beverly Hills in Hollywood, "because I wouldn't be surprised if we see them next year back together and this was a whole publicity stunt."
Article continues below advertisement
And even after a rocky relationship between Tamra and Gretchen, the firecracker of a housewife still wishes her co-star well.
"I think divorce is a horrible thing for anybody and I pray that her kids can make it through, but at the same time… But if it is real I hope that they can get through it, but I just hope they are not trying to fool the world," Gretchen adds.
With much tension between the ladies on this round of the Bravo reality TV series, Gretchen always seems to be the target of drama, but her new found attitude has made this 32-year-old bombshell realize its better too keep her distance from the rest of the crew with the exception of a few.
"I chose to keep positive people in my life that are uplifting and those girls, except Alexis, aren't like that and I really don't have an ill word to speak about them. They are who they are and their true colors show and I just don't care to really talk one way or the other about them," Gretchen tells OK! at the Hospitality Suite for the Golden Globes.
And with the Housewives on her back about her new boyfriend Slade Smiley and his parenting skills, Gretchen thinks it's unbelievable that anyone could look down on him.
Article continues below advertisement
"It's been really frustrating lately because people have so many negative things to say about him and it's hard for me because he is one of the most amazing men I have ever met," Gretchen gushes to OK!, "And it bothers me that the women have a comment about his children or how he is as a father when they have never even seen him around his children and they don't know anything about the situation. It's very ignorant…"
In the meantime, Gretchen is just trying to keep herself busy by taking to singing, starting her own beauty line, Gretchen Christine Beaute, and even has room for babies in the future as she reveals to OK!, "I want to have kids of my own!"
Well have to wait and see if Slade is Mr. Right!