NEWS
Gun-Wielding Shawn Johnson Fan Arrested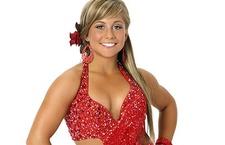 UPDATE: The man arrested last night who reportedly tried to get in touch with Shawn Johnson after Dancing With the Stars has been charged with felony stalking, the L.A. District Attorney's Office says.
Robert O'Ryan is also being charged with two misdemeanor counts of carrying a loaded firearm in his vehicle and will be arraigned today.
O'Ryan's bail is set at $35,000, probably to be raised to $220,000 at prosecutors' request.
Article continues below advertisement
--------
Olympic gymnast and Dancing with the Stars competitor Shawn Johnson's mother Teri has filed a petition for a restraining order against Robert O'Ryan, 34, who allegedly tried to sneak onto the set of the hit ABC reality show to see her and was arrested.
According to a report on TMZ.com, O'Ryan allegedly had two loaded guns on him at the time and said he was "meant to be" with Shawn and "believes she is speaking to him personally through the television and via ESP and he will be with her no matter what," Teri's petition for a restraining order states.
When contacted by OK!, LAPD spokesman Officer Lee could only say, "All I know is that he was taken into custody. We are waiting for some information."
A rep for Shawn explains to OK!, "The matter has been turned over to the Los Angeles Police Department and the Los Angeles District Attorney's office. It is currently an ongoing investigation and we are confident that it will be handled appropriately by all involved."
Article continues below advertisement
On Tuesday night, Shawn gave no indication anything was wrong after the DWTS taping. The unflappable gymnast, 17, who had earned a score of 27 out of 30 for her graceful Monday night foxtrot with partner Mark Ballas, told OK! about her performance: "Every dance is different. You pretty much start from zero every week."
Shawn said she'd been getting a lot of good feedback from her friends and family in Iowa: "I get text messages and calls every day, telling me, congratulations, we saw you and good luck. It's great they're supporting me through it all."
Because she is still under 18 years of age, Shawn keeps different hours on the set than the other DWTS competitors.
By Carole Glines & Patricia Ramos