NEWS
Celeb Chef Guy Fieri Rips Into His Haters & Anthony Bourdain: 'Like I Give A Sh-t!'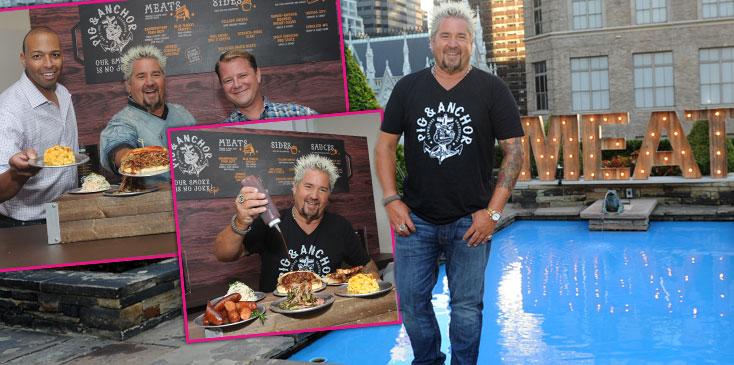 Guy Fieri is bringing the meat — specifically barbecue — to Carnival Cruises, but there's still some beef with fellow celeb chef, Anthony Bourdain.
The Food Network Star unveiled his joint venture with Carnival, Guy's Pig & Anchor Bar-B-Que Smokehouse, on July 28 in New York City, with a showcase of the tasty BBQ at the Summetime Beer-B-Que rooftop bash. In addition to beers from top U.S. breweries and comfort sides like mac 'n' cheese and slaw, the eatery features Guy-crafted meats like pulled pork butt, grilled chicken and smoked Andouille sausage slow-cooked on board the ship in a real smoker.
Article continues below advertisement
While Guy is a pro at slow cooking his meat, the bleach-haired, rock 'n' roll lovin' big personality is also known for being roasted, specifically in multiple digs by fellow celeb chef Bourdain, who famously referred to him as a "douche" in a "flame outfit." But just like how being at a summertime BBQ throws your worries away, Fieri, in his own words, doesn't give a "sh-t" about his critics.
Fieri, a huge music fan, discussed with OKMagazine.com how BBQ evokes the same sentiment he has for "freedom," his love for all types of music and his dislike for haters' commentary.
OKMagazine.com: What makes a cruise and BBQ the best pair?
Fieri: When you're cruising, you're free. You're not thinking about calories, your electric bill, wondering where your kids are. Every boat should be called "Freedom." I mean you're red, white and blue! When you have those free moments, those blissful awesome times, the weather is dynamite, what do you think about? You got barbecue! They go hand-in-hand.
Article continues below advertisement
OKMagazine.com: What's your favorite BBQ recipe or dish?
Fieri: It's kind of like what mood are you in. It's kind like if you're in the mood for Motörhead or Enya, and I listen to both. I'm a huge music fan! If I'm in a Motörhead mood, I'm down with some pulled pork, big chunks of pulled pork with some great vinegar barbecue sauce on top and a big, crunchy roll. If I'm in an Enya mood, I'd like a nice smoked chicken.
OKMagazine.com: What's the key to the perfect BBQ?
Fieri: The key is, not too much smoke and good smoke. I like it when the meat is cooked down to where the meat's not falling off but it's not chewy. There's a balance in between so it's got texture. I'm also a big fan of what goes with the barbecue. You've got to have a good slaw to cleanse the palette. Gotta have some nice fat with that bacon mac n' cheese comin' through. Some potato salad, some beans, a nice little mix. Accoutrements!
Article continues below advertisement
OKMagazine.com: What's your favorite restaurant that you own?
Fieri: It's kind of like who's your favorite kid! What I did for Carnival with barbecue for Pig & Anchor is awesome and what I'm doing in Louisville and Norfolk, Virginia called Guy Fieri Smokehouse, which is kind of a cross between a barbecue concept and a steakhouse and kind of a California grill. There's a lot of smoking and a eclectic mix of food. I can't say one's more favorite than the other but my favorite restaurant of all is my restaurant at home. Cooking for my family — my kids, my wife, my parents. I'll come off the road and it's like an artist walking into his home studio and wanting to paint. That's where I'm my best!
OKMagazine.com: What's dish of yours standout most in your mind?
Fieri: Have you been to El Burro Borracho? We make something called the "Trashcan Nachos." You know when you get nachos and you eat all the toppings and then you're left with a plate of chips? We built the nachos flat and then you stack 'em in a trash can and top them with the meat and cheese and you shake it up. Every single chip has stuff on it. There's nothing worse than the chip pile.
OKMagazine.com: With something like "Trashcan Nachos," are you worried about what your critics like Anthony Bourdain have to say?
Fieri: I don't care. My critics are not doing anything for me. If you told me right now, 'I had trash can nachos, Guy, and I didn't think they were very good,' that would really mean something to me. Someone says, 'Guy Fieri makes trashcan nachos, how immature. blah blah blah.' Like I give a sh-t! My thing is: I'm interested in the people that I'm serving. If you want to give me constructive criticism, if you'd like to come and tell me to my face, if you'd like to write me a letter and tell me about it, fine. Anybody can 'Blah blah blah.' Unfortunately, everyone has haters and if you subscribe to it, you fuel it. I don't hate, I'm not into the hating game. There are people I don't like. There's things I don't like. Do I care to go and tell anybody else about it? No! Why, what's that gonna do? 'I don't like the way that person dresses.' Who gives a sh-t really! Have I ever had my feelings hurt? You bet! But the reality of it is, you can't let it be more than you.