NEWS
Guy Fieri Gets Fired Up For NBC Primetime Gig!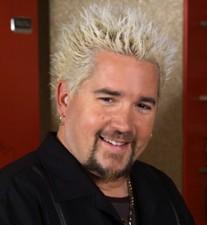 Guy Fieri has a large appetite for life. The Food Network star is an accomplished chef, TV personality, husband, father and now he will be adding primetime NBC host to his extensive repertoire. Guy's new gig hosting Minute to Win It — a new game show where contestants can win up to $1 million for completing a fun, wacky minute-long challenge — is sure to have everybody talking.
The chef opened up to OK! about balancing four shows, his favorite challenges, and which celeb he would love to cook for.
Article continues below advertisement
Was it a big honor to be chosen as the host for Minute to Win It? Were you surprised that you were approached?
GF: I can't even begin to tell you. On so many levels. The reason being my whole situation has been a whirlwind. I'm a chef, restaurant owner, dad, and that's really what I wanted to be. Those were my goals in life, and I succeeded at them at a young age. All of a sudden the Food Network thing comes a long. I don't want to call it a fluke but a complete unique situation where ok I won, and now I won and got a show. Now I got a show, and I got three shows, can I get three, can I get four. So this is already going bananas. And my agent is really great. I have the best agent in the world.
You're used to being around people for your Food Network shoe Diners, Drive-ins and Dives, so was hosting a game show a natural progression for you?
GF: I can't really say I've got true game show host qualities that you may see from you're a-typical game show host of the 70s and 80s, although I did watch that stuff as a kid. And, I am a fan. Bob Barker is a mac daddy…what they can do, how they do it, how masterful it is. I don't know if I'd call myself a game host. I'd call mine more like a buddy. Like a coach. I'm the coach that's with them there in the corner that's like "Alright this is your objective — we're at the 4th quarter, we're down by two and you've got 60 seconds to go win 125,000 bucks. When you're standing next to someone who wins big money and they're crying or when you're standing next to somebody and they lose big money and they're crying and the family is there, I'm not kidding you it's everything I have to keep it together, because sometimes the expressions that want to come out of me aren't so PC.
Article continues below advertisement
How do you balance three shows on the Food Network and a primetime spot for NBC?
GF: Ironically enough on Sunday (March 14) the two shows premiere together — Ultimate Recipe Showdown on Food Network and Minute to Win It on NBC, premiering at the same time. I think that needs to be some trivial pursuit question for television. Someone's got to write that in. How do I keep it together? It's a combination of things. One, I come from the business of hard work, and I come from the restaurant business, so we we're always into the idea that 24/7 is not really 24/7 it's more like 25/8 that's my work schedule. And, surround yourself with good people. I have a great wife and really supportive buddies, a good core team at the office and then just the write people in the arsenal. Great agents, great PR company. It's all those things.
What makes Minute to Win It a different type of game show?
GF: Here's one of the cool things about the show that nobody knows, they'll see Sunday, is that we have this $500,000 slow-motion camera, called Power Cam, dun dun dun, Power Cam. It's this really high-tech, super ninja, high-definition slow-motion camera. So when you're watching someone compete, that's the thing I love, you know how in football you get the slow-mo and you see the guy's toe touch the line, the same thing goes here. There are a few moments where the audience, and I said this to the audience who was there for the live show, you only need to buy half a ticket, because you're only going to be on half the seat. You're going to be right on the edge of your seat. And, there are some moments where the Power Cam picks up this final action that happens and it is jaw dropping.
Article continues below advertisement
FOR MORE ON GUY FIERI VISIT HIS SITE ON THE FOOD NETWORK
What Minute to Win It challenge did you find most difficult?
GF: I didn't really see any challenges I didn't like. I saw some that I love — "Junk in the Trunk." Let's just do the math on this. You put 8 ping pong balls into a tissue box and strap it to a belt. The game wizards, as I've coined the phrase, I don't know where they came up with this stuff. The game has to pass a lot of tests and a lot of people playing it, and the names by the way are just perfect. "Junk in the Trunk." "Hanky Panky." "Ping Pong Wop." Back to "Junk in the Trunk," you're going to see everything from a 105 pound school teacher to a 350 pound construction worker sit there and girate to the point where they shake these ping pong balls out of this box. It is priceless. And I promise you, that there's going to be a dude on Monday morning that is going to be packing his briefcase for work and his wife is going to catch him loading his briefcase with ping pong balls, feathers, marbles, number 2 pencils, a solo cup and a fish bowl. And she's going to say "What are you doing?" "Nothing. Nothing here." And he is going to be creating Minute to Win It Fight Club at the work place — Watercooler Olympics!
Go buy stock in Kleenex. Okay? Because, the amount of Kleenex boxes that are going to be raided. I can see people in Walgreens right now, people tearing into aisle 6 for Kleenex boxes and ripping them up….It's going to turn into that after this show. Pandemonium will ensue.
Are you able to incorporate your love for food in the show at all?
GF: We have a couple competitions. The Candy Elevator. Where you have two pencils taped together, on two strings. You drape the strings over your ear, you stand up on a 6 foot high platform and you raise the three M&MS on the two pencils up to your mouth and eat them. We also have Face the Cookie. You put the cookie on your forehead. You jiggle your forehead until you can wiggle the cookie down into your mouth. Some people rock at it. Some people flop at it. When season two comes, you can expect I'll bring the chili dog.
Article continues below advertisement
It's all common denominator. We love food. We love competition. We love excitement. Whether I'm talking about food or competition, when it's the common denominator stuff for people, when every body shares it, it just makes it universal.
How has your life changed since you've become a big Food Network star and recognizable TV personality?
GF: It's a blessed opportunity. I'm very fortunate. I have to attribute a tremendous amount to the people I'm surrounded with. Food Network has the insights to let me do more shows. All the people around me. The opportunity is great. My big charge is what it does to other people. What it does for the Make A Wish Foundation. What it does to the restaurant industry. The restaurant industry alone, mom and pop places in a recession, I get the chance to shine the spotlight on these mom and pop joints. It literally changes their financial future for the rest of their life. To be that dude and highlight these folks and make this opportunity, it is I don't even know the words to describe it. And the letters we get from people, we probably had 30 different locations told us they were a month away from closing their restaurant. It was over. The recession. The location. Whatever it might have been. I couldn't be more thankful for that opportunity.
What celebrity would you like to cook for and take with you on a trip to a diner/dive?
GF: That's a tough one. One of my all-time heroes, who I thought was one of the greatest comedians, was Rodney Dangerfield. And Rodney, making his career break when he was 40; ironically enough that's kind of when my kick happened, at 40. All of the funny guys. All of the "what you see is what you get guys." I'm a huge Clint Eastwood fan. I would just love to see Clint Eastwood take a look at something and just squint. I could just see me and Rodney Dangerfield drive in Camaro. Matthew McConaughey and I have cooked together a few times. He has been great. He has a great palate, great sense of food.
Article continues below advertisement
My favorite chef is the everyday person. I mean I'm a huge fan of Mario Batali and Emeril Lagasse, but it's the person who is plugging away at it, trying to do it. The everyday person going after it.
Guy on The Tonight Show with Jay Leno: The outgoing, fun-loving chef gets Kristen Stewart and host Jay Leno to battle it out in a Minute to Win It challenge — who reigns victorious?
Diner, Drive-Ins and Dives