NEWS
OK! EXCLUSIVE: Jake Pavelka's 'Dancing with the Stars' Showdown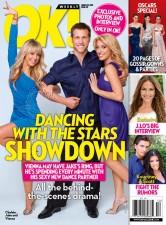 Since proposing to Vienna Girardi on the finale of The Bachelor, Jake Pavelka has been a busy man. Not only has he been devoting himself to his supportive fiancée, he's also spending long hours with his new Dancing with the Stars partner, 20-year-old Chelsie Hightower. In fact, at OK!'s photo shoot in Beverly Hills, Jake and Chelsie already seemed like old friends and OK! exclusively brings you all the behind-the-scenes drama!
Article continues below advertisement
"Jake's the same as he was on The Bachelor. When I first met him, I felt like I already knew him," Chelsie tells OK!. "He's just a real nice guy always looking out for others."
FOR MORE ON JAKE PAVELKA'S NEW DILEMMA PICK UP THE NEW ISSUE OF OK! — ON SALE EVERYWHERE THURSDAY!
Also in the new issue of OK!:
• The Bachelor: Just after Jake Pavelka and Vienna Girardi are finally able to take their romance public, Jake has now signed on for the new season of Dancing With the Stars. OK! sat down with the lovebirds and Jake's new dancing partner Chelsie Hightower at an exclusive photo shoot to get the scoop on how Vienna feels about all the time that her man is spending with Chelsie.
• The Academy Awards: It was a big night for Sandra Bullock, Jeff Bridges, Mo'Nique, Christoph Waltz and Kathryn Bigelow to name a few. From the dresses to the hair to the makeup, get all the scoop on Hollywood's biggest night. Plus, don't miss our biggest Oscar moments, including the hottest couples and off-camera laughs.
CHECK OUT OK!'S COMPLETE RED CARPET OSCAR PHOTO GALLERY!
• Jennifer Lopez: The superstar actress and singer reveals in an exclusive interview with OK! how she balances work and her family life with husband Marc Anthony and their twins.
• Plus: Kourtney Kardashian and Scott Disick defy the on-rocks-rumors and get cozy in Miami; Robert Pattinson takes on his sexiest role yet in Bel Ami; Find out how Ghost Whisperer star Jennifer Love Hewitt got her hot new body; OK! helps Hollywood's hottest singles find their astrological matches; Lasting impressions with The Insider's Lara Spencer.