NEWS
Gwyneth Paltrow & Jimmy Fallon Bring Back Shazzazz!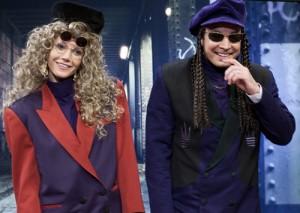 Gwyneth Paltrow stopped by Late Night with Jimmy Fallon last night, and her appearance would not have been complete without performing a skit with the comedic host. Gwyn and Jimmy Fallon revealed two music videos from their hip-hop/R&B group they formed together in the 80's — Shazzazz!
Last night, the duo debuted Shazzazz's music videos from the 90's, including hits "Let's Do It", "Do It Again", and "We Did It".
Article continues below advertisement
Gwyn has been busy exercising her vocal chops with her latest film Country Strong and her highly-talked about appearance on Glee (yes, she is reprising her roll as substitute teacher Holly Holiday.)
The 38-year-old actress earned a Golden Globe nomination in the best song category for "Coming Home" and "Country Strong" off the soundtrack from the film.
"I think there definitely will be singing in my future. I know that I won't stop singing and playing guitar," she told Yahoo! in a recent interview, via Just Jared.
"It may just be to my kids in the house. I may make a record. I may do a musical. I'm not sure, but I'm just very grateful I'm in a place now where I've been given an opportunity to discover this whole new side to myself."