NEWS
Gwyneth Paltrow Makes the Rounds for 'Iron Man 2'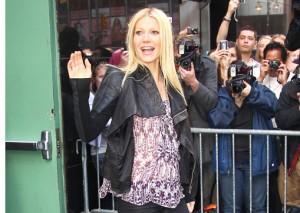 We're loving that we get to see the gorgeous Gwyneth Paltrow out and about more often, now that she's making the media rounds for Iron Man 2! Gwyn stopped by Good Morning America as well as The View, where she dished on kissing co-star Robert Downey Jr. in front of her her husband!
RDJ's wife Susan Downey was a producer on the movie, so she was in the loop, but Gwyn's Coldplay hubby, Chris Martin, might've been caught off guard!
Article continues below advertisement
"My husband had come by that day with the kids," she explained to the ladies of The View. "I didn't tell him because in my mind, it's not a big deal. They always have us kissing random people all the time in our business. And he was like,"Oh... hi!"
OK! GALLERY: IRON MAN 2 CAST PUMPS UP THE L.A. PREMIERE
So was Chris jealous? Nope!
"But it was fine," she added. "I mean, its just funny because Robert and I are very close friends. Were all very close, the four of us and so I think it probably seemed weirder than it was. Luckily, Robert's cute."