NEWS
Gwyneth Paltrow Wows Miranda Lambert, Lady Antebellum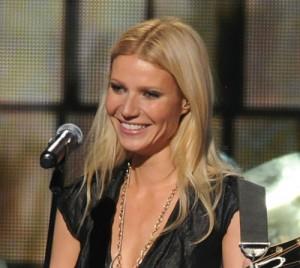 When Gwyneth Paltrow earned a standing ovation after her live singing debut at Wednesday's CMA Awards, country's biggest stars took notice.
The Oscar winner gets rave reviews for her performance of "Country Strong," which doubles as the title of her forthcoming film.
"Gwyneth is a great singer," three-time CMA Award winner Miranda Lambert tells me backstage. "I've never got to meet her, but she did a great job, and I think she's probably really country, and I think she really seems very genuine, and can't lose with Vince Gill. You can't mess up if you've got that going."
Article continues below advertisement
For the night's two-time winner Lady Antebellum, the standing ovation was Mrs. Chris Martin's shining moment.
"We were sitting behind her," the group's Charles Kelley tells me. "We know it sounds great on the radio, but then to hear it live – I mean, she sounded just like her record. I was absolutely, completely blown away. I think that was the biggest reaction of the night, too, with the crowd."
Hillary Scott marvels, "Talk about a stamp of music cred. That's definitely amazing, and it's any country artist's dream."
Sounds like Gwyneth has won over the country crowd!