NEWS
Gwyneth is an 'Unusual' Mom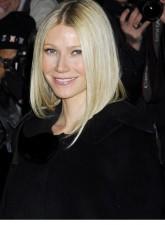 Being a grandparent to daughter Gwyneth Paltrow's children Apple and Moses is "phenomenal," says a beaming Blythe Danner, and she would "love it" if more grandchildren were on the way.
When Gwyneth, 37, became a mom for the first time in 2004, Blythe's only advice to her was to "love 'em."
"Gwyneth really invests herself in an unusual way," she says during her Gen Art Film Festival premiere of Waiting For Forever held Thursday. "She's incredibly patient. She spends a lot of time with them. She answers everything. She anticipates. She never surprises them. They're well-prepared for all the travel and all the things that go on. They're very happy kids."
Article continues below advertisement
While Moses, 4, is "really into" his Star Wars Legos, Apple, 5, can't get enough of ballet.
Blythe sees acting in their future.
"I think it's in their blood," she admits. "Certainly Apple. I definitely think she's got that certain something. Just the way she is in the world. She's comfortable. Very funny, very beautiful. I think she'll do it. She adores her mother and I think she likes me and I think she probably likes to follow in footsteps."
Although Apple is taking after Gwyneth, Blythe says Moses takes after dad Chris Martin, 33, whom she wed in 2003.
"I definitely see Chris in him," she says.
According to Blythe, the foursome couldn't be more pleasant.
"They're really happy," Blythe says. "They're a wonderful family.
Can we expect more kids from Gwyneth and Chris?
"I have no idea," she says. "I don't pry."