NEWS
Hailey Glassman: Living with, But Not Talking to, Jon Gosselin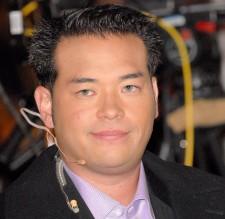 Jon Gosselin's ex-girlfriend Hailey Glassman says that she and the father-of-eight are not on speaking terms, but there's one problem: They're still living together.
In a tearful interview with RadarOnline.com, Hailey confesses, "we are not together. But it's complicated. We're still living together but he's away travelling."
Hailey was deposed by TLC on Monday in the network's breach of contract case against the reality star but she maintains they never discussed business deals.
Article continues below advertisement
She also insists their trip to France this summer to stay on Ed Hardy designer Christian Audigier's yacht wasn't intended to be a business trip.
"All I knew was that I was going to France and we were going to spend time on Christian's yacht. I knew Jon was maybe going to do a line with Christian, but that was it."
Amid tears, the 22-year-old describes her relationship with Jon as "a joke that was on me."
And stepping into the void left by Jon's split with Kate Gosselin has destroyed her family. "Welcome to my nightmare," says Hailey.
"I'm not on speaking terms with my mother because of Jon. He's thrown a huge fork in my family. That's the saddest part about all of this.
"When all the cheating accusations came out I'd catch him lying, he'd call my mother and tell her 'I love Hailey, I would never cheat on her. Those other girls are whores and they're trying to extort money from me.'
Article continues below advertisement
"At that point I would break up with Jon and tell him to leave me alone. My mom would then come to me and say, 'Jon's a great guy.'
"He would manipulate my mother because he knew my mother and I were best friends. He would manipulate my mother to get back to me and I would forgive him."
Hailey wants to start life afresh - without the 32-year-old man child around.
"I just want this all to be over," she says. "I want him out of my life... I want my family to come back together.
"I feel like I've been in crazy land, in a tank of piranhas. I think Jon needs to relearn to love himself before he can even have friendships. He needs to relearn how to be a good person and I hope he gets help."