NEWS
Hailey Glassman Moving to L.A. for New Reality Show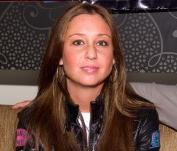 While Jon Gosselin's former wife and mother of his eight children, Kate Gosselin, embarks on her own career move with Dancing with the Stars, new reports reveal that the dad's latest ex-girlfriend, Hailey Glassman, is also ready for a change with a dose of reality television.
"I was offered to do a show called Starting Over, which will be about me leaving New York and all the negative behind me," Hailey gushed to Radar Online of her new plans.
Article continues below advertisement
HAILEY GLASSMAN REVEALS INTIMATE SECRETS ON JON GOSSELIN RELATIONSHIP
Hailey plans to move out of the Big Apple, where she was born and raised, to head for the beach.
"I'm moving out in August and probably moving to the Santa Monica," Hailey revealed of her impending move, "I don't know LA at all, I could love it, I could be the biggest train wreck."
And while the 22-year-old, who was linked to Jon after his divorce from Kate, still lives at home with her family, Hailey is ready to grow up and move out.
"My mom is so upset, but I have to grow up. Living in my parents' house is going to keep me a little girl forever. I have to be out on my own. I need to find my passion again and figure out who I am. The world only knows me as the tabloid Hailey. Hopefully through this show they'll see me for who I really am."
In the meantime, Hailey's ex Jon has been shacked up with his latest girlfriend, Morgan Christie.