NEWS
Hailey Glassman's Attorney Admits Her Client Took TV from Jon's Apartment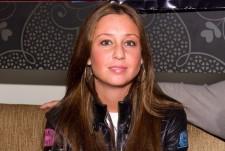 Article continues below advertisement
"She moved all her belongings out so there will be security video showing her carrying items out of the apartment."
Hailey reportedly moved out last week. Jon called the cops on Saturday saying his apartment had been ransacked, with furniture and clothing slashed and a note stuck to his dresser with a knife.
His attorney Mark Heller told RadarOnline.com: "Hailey Glassman is going to jail. It's a simple as that."
Hailey's attorney is fighting back at that statement, calling it irresponsible and adding that her client "is not even a suspect."
As for that ominous knife-letter combo, Ovadia is staying mostly mum.
"I don't know anything about a letter. I don't have a copy of a letter," she says.
Desepite what would appear to be a bitter break-up, Hailey's lawyer says she isn't angry with Jon.
"Hailey has nothing bad to say about Mr. Gosselin," Ovadia tells Radar. "She took her belongings and she is moving on with her life."
"Hailey is 22 years old and she needs to move on with her life. She is caught up in madness and she is a baby."
For her sake we hope that baby hasn't been playing with sharp objects!