NEWS
Haiti Telethon Raises $57 Million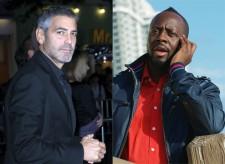 After George Clooney and a wide array of celebs banded together to help Haiti, their efforts have most certainly paid off. Donations from the Hope for Haiti Now telethon, broadcast on Friday from London, L.A., and N.Y., have reached $57 million — and counting.
"The public has set a new standard of giving for a relief telethon with Hope for Haiti Now and the donations continue to come in," President and CEO of the Entertainment Industry Foundation Lisa Paulsen revealed in a statement on Saturday, reflective of donations received so far.
Article continues below advertisement
And according to Pop Eater, donations have also been flying in through iTunes as the Hope for Haiti Now CD is being purchased for $7.99, while the single "Stranded," aired on the show, is at number one on the site's charts.
"Stranded," was performed by Jay-Z, Rihanna, Bono and U2's The Edge on Friday night, while Alicia Keys, Madonna, Stevie Wonder, Beyonce, Wyclef Jean, Justin Timberlake, Robert Pattinson, Christina Aguilera and many more were all on hand on to raise awareness for the live broadcast to aid victims of the massive earthquake in Haiti.
Didn't get a chance to watch the Hope for Haiti Now Telethon? Catch OK!'s Live Blog of the event for a recap.