NEWS
Haley Reinhart "Left In Style" Says Pal Casey Abrams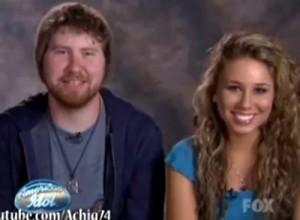 Haley Reinhart sang her heart out last night after her dreams of making the season 10 finale of American Idol were crushed. The 20-year-old crooner got the audience on their feet for her soulful rendition of "Bennie & the Jets" and walked into the crowd to sing her heart out in front of her fellow Idol castoffs — including her closest pal and rumored fling Casey Abrams!
"@HReinhartAI10 did awesome last night, she left in style. couldn't be happier for her." Casey Tweeted after last night's finale.
Article continues below advertisement
Casey jammed out in the audience when Haley sang her final song and looked very proud of his closest pal.
The duo will be reunited on the American Idol tour this summer.
When Casey stopped by the OK! offices after his elimination, we had to ask about all the rumors that he and Haley were an item.
"I thought it was obvious that we weren't. I saw it in magazines and I was like, 'Oh, rumors, rumors, whatever, people.' Then I realized it was getting out of hand when one of my best friends said, 'I'm pissed. Why didn't you tell me this?' I'm like, 'Why are you believing this stuff?' "
Despite not dating Haley now, does Casey think he ever would?
"Would I? I don't know. No. I never would. Ever," he told OK! jokingly. "No, the thing is that we're such close friends, so it would probably ruin the friendship. But I only know her in the Idol world, but who knows? Maybe I could date Lauren Alaina in, like, five years. That's why I don't wanna say no or yes. Maybe I'll be dating Pia Toscano, maybe she'll call me up tomorrow and want to date me."
Idol alum Adam Lambert was also sad to see Haley go.
"Sad for Haley... But it's all good! Can't wait to hear her music!!" he Tweeted, followed by, "Yeeehaw! American Country Idol. ;)"
Were you surprised to see Haley leave? Watch her final performance below and sound-off in the comments!