NEWS
Haley Reinhart Vs. Jimmy Iovine: Haley Lets Obscenity Slip on 'American Idol'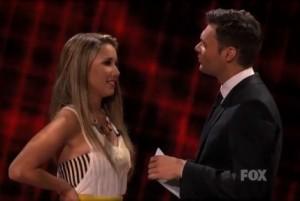 On last night's American Idol, mentor Jimmy Iovine shared his thoughts on each contestant before Ryan Seacrest told them if they'd stay or go. When it was Haley Reinhart's turn, Jimmy had some tough criticism from her, and she didn't take it very well - as evidenced by letting an obscenity slip on-air.
OK! VIDEO: WATCH CASEY ABRAMS' KISSING JOURNEY ON AMERICAN IDOL
"Haley's problem is she really doesn't know who she is yet," Jimmy said in a pre-recorded video about the contestant on American Idol.
Article continues below advertisement
Haley immediately responded to the criticism by saying a naughty word that Fox was able to edit out from primetime TV.
Now, we can only guess at what Haley may have said.
OK! NEWS: AMERICAN IDOL BLOG — TOP 6 RESULTS SHOW: CASEY ABRAMS ELIMINATED!
But Ryan Seacrest didn't seem too happy with Haley's reaction and scolded her saying she needs to watch her mouth!
Did you think Jimmy was too hard on Haley? Or do you think Haley needs to learn how to take some criticism?