NEWS
Halle Berry on Daughter Nahla: "I Hope She's Proud of Me"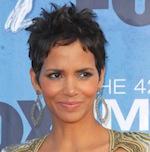 Halle Berry was stunned after being recognized for her role in Frankie and Alice at last night's 42nd Annual NAACP Image Awards, but regardless of her shock, the actress didn't forget to explain the message she is trying to send out in her work, especially to her adorable daughter Nahla.
"I hope she is inspired, I hope she's proud of me," Halle explained to OK! of her 2-year-old daughter at the Shrine Auditorium in L.A., "I'm sure she won't like everything I've done but I hope she will appreciate that I dared to be myself and always did what I believed in. I hope those are qualities that I pass on to her."
Article continues below advertisement
The Die Another Day bombshell, 44, took home the prize for Outstanding Actress in a Motion Picture for the yet to be released film Frankie and Alice.
The movie, based on a true story about a woman with "multiple personality," also won the award for Outstanding Independent Motion Picture on Friday night.