NEWS
Halle Berry & Gabriel Aubry Split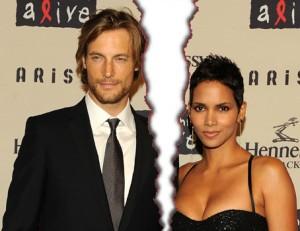 Halle Berry and Gabriel Aubry have reportedly split after being together for nearly five years and having a daughter together.
OK! GALLERY: HALLE BERRY & NAHLA SOAK UP THE CALIFORNIA SUN
Radar Online reports that Halle and Gabriel have split after spending months working with a lawyer to finalize a financial and custody agreement.
"Halle was terrified that Gabriel would go after her money," a Radar Online source said. "But he's a decent and proud guy and that's just not his style.
Article continues below advertisement
OK! GALLERY: HALLE BERRY'S HAPPY FAMILY DINNER
The couple have a daughter together, Nahla Ariela Aubry, who was born March 16, 2008.
"Gabriel's main concern was custody of Nahla, he loves that little girl more than anything, and wanted 50/50 joint physical custody of her, which Halle agreed to," the source said.
"Financially, Gabriel isn't in the league of Halle, but he still earns a decent amount from his modeling career, in the region of $700,000 per year, so he's comfortable and he didn't want a dime from Halle," the source explained. "All Gabriel has asked for is the house they own together in Canada. Halle put the full deposit down on the house but Gabriel has made every one of the payments since. Halle agreed right away."
OK! NEWS: HALLE BERRY CATCHES TWILIGHT FEVER
According to a Radar Online insider, Gabriel ended the relationship and their age gap, he's 34 and she's 43, played a part.
"Gabriel just felt it wasn't working anymore," the source said "When they were first together the 9-year age difference between them didn't phase him, she was the most beautiful woman he had ever dated and he was totally in love. But as time went on he started feeling it more and more."
Article continues below advertisement
"Also, Gabriel started noticing other women, and being attracted to others, and he felt it just wasn't right to stay with Halle in those circumstances," the source added. "Gabriel is a really nice, decent guy and he would never cheat on her, but I suspect that he had become attracted to someone and that he felt he needed to break it off with Halle before anything developed any further."
Halle and Aubry were not married, but Halle had been married twice before she met him.
Her first marriage to David Justice ended after five years after Halle made accusations of domestic abuse.
Halle's second marriage to Eric Benet ended after four years when Halle learned Eric had cheated on her.
OK! GALLERY: HALLE SHOWS NAHLA OFF TO FRIENDS
When she met Aubry, Radar Online reports she said, "life was already complete without the need for a marriage."
"As much as it can be it's been an amicable split," Radar Online's source said. "They both traveled a lot for work anyway, so they were used to spending time apart for long periods, but I think Halle has taken it pretty badly, she truly loved Gabriel and thought she had found the one."