NEWS
Halle Berry & Oliver Martinez's Encounter with Photographers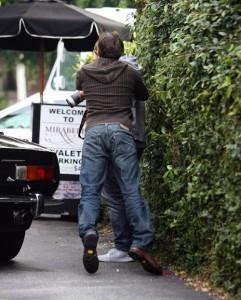 Although Halle Berry was all smiles as she left a West Hollywood, CA restaurant with her boyfriend on Friday afternoon, Oliver Martinez did not seem as pleased after being involved in an alleged encounter with paparazzi.
According to E! Online, the photographer in question filed a police report against Oliver claiming that he threatened him outside of the restaurant.
Article continues below advertisement
The man also says that the Unfaithful actor backed into the paparazzo's car.
Halle seemed unshaken as she hopped into a separate car to head home.