NEWS
Halle Berry Opens Up on Losing Nahla in Department Store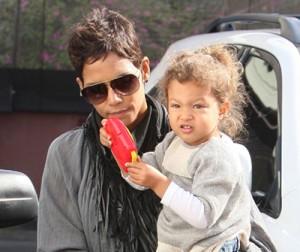 Halle Berry is almost always out and about toting her little companion — adorable three-year-old daughter Nahla Aubry. On Monday's episode of Ellen, the doting mom opens up to Ellen DeGeneres about motherhood and shares a terrifying experience with the host about losing Nahla in a department store.
"Talk about sweating," Halle, 44, explains to Ellen of the experience. "And you just freak out for about 30 seconds. I came undone. I think my head projected off my body."
Article continues below advertisement
"And then all of a sudden, I looked down at a price tag or something, and she toddled off for what seemed like two seconds," she says. "The next thing I know, I looked back around and it was like, Whosh! Gone! And I said, 'Nahla? Nahla? Nahla?' Gone," she continues. "My heart just started ... I'm like, Close the store! Shut the door! My daughter's gone!'"
While the seconds felt like hours to Halle, the mom quickly found her little one.
"She was right next to me — in a rounder of clothes where the pants were hanging. Right there. And after I became a lunatic and totally embarrassed myself, she stuck her head out and was like, 'Hi.'"
Watch Ellen Monday at 4 on NBC for the rest of Halle's interview.