NEWS
Halle Berry Says Nahla's Got the Acting Bug "In Her Blood"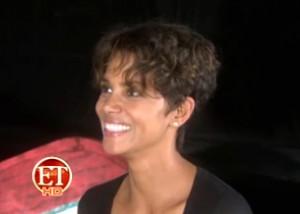 Halle Berry says her daughter Nahla Aubry doesn't understand her job just yet. But that's probably a good thing considering mommy has been busy swimming with sharks for her new film, Dark Tide!
OK! GALLERY: HALLE & GABRIEL SPEND TOGETHER IN LONDON WITH NAHLA
In her first film in three years, Halle is going all out in Dark Tide.
Halle plays Kate, who is brought back to swimming with the sharks by her estranged husband (Olivier Martinez) after having a nearly fatal incident.
Article continues below advertisement
"I touched a real shark, like a real great white shark in the wild!" Halle tells Entertainment Tonight in an interview airing tonight. "When I went to go touch the shark they had me tethered to the boat, and I finally said, 'Wait a second, why am I tied to the boat?' And they said, 'Well if the shark gets you, we want them to just get your arm and not your whole body!' But we all knew that we took every safety precaution, it was something I wanted to do and that I felt like you know would be safe to try to do."
OK! GALLERY: HALLE & OLIVER LIGHT UP THE SET OF DARK TIDE
The star was filming on location on a boat in South Africa, which become a challenge for both the cast and the crew.
"I got seasick the first day, threw up on co-star Olivier's shoes," Halle says. "About nine people got taken off the boat because they couldn't handle it."
Filming in London went a bit better, but Halle says her daughter Nahla is confused by her celebrity status.
Article continues below advertisement
"She knows something goes on weird with Mommy because when we leave the house there's always paparazzi and people flashing and its kinda tense and stressful, so she knows something goes on different with Mommy unlike anybody else," the mom explains. "I don't think she knows what that is yet."
OK! GALLERY: HALLE BERRY BRACES FOR A SHARK ATTACK!
But Halle does believe Nahla has the acting bug saying, "I think she's got it in her blood."
Tune in to to ET on Thursday, Sept. 16 for more of Halle's interview!