NEWS
Halle Berry's Half Naked Lunch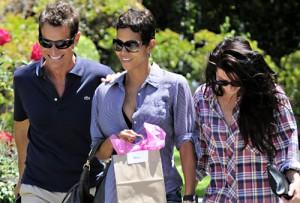 We already know that Halle Berry has a great body and great looks, but maybe she wants to reinforce that? When she was walking out of Toast in L.A. on Thursday after a lunch with friends, Halle's plaid shirt had only two buttons fastened and her shorts were super tiny. The shirt was flapping up, exposing her waist, and the top of it was low cut and loose as is.
OK! GALLERY: HALLE & NAHLA SEE ELEPHANTS & CLOWNS AT THE CIRCUS, OH MY!
Article continues below advertisement
The cutoff, denim shorts would have looked fine if the shirt wasn't so revealing, but with so much skin getting soaked in the sun, Halle might be showing off a little too much. The black bra peeking out off her button down wasn't so cute either.
OK! GALLERY: HALLE MOON BOUNCES FOR NAHLA
It's a good thing Halle had her friends to walk her home. Otherwise, the gorgeous gal would've had crazy men chasing after her (as if that doesn't already happen!).