NEWS
Halle Berry's Message to Ex Gabriel Aubry: Nahla Is Black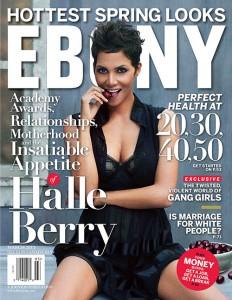 In the midst of her nasty custody battle with Gabriel Aubry, Halle Berry covers the March issue of Ebony. The proud mom discusses her 2-year-old daughter's race in the magazine, a topic that allegedly makes Gabriel very angry. The Oscar-winning actress looks almost devious as she coyly bites on a cherry, wearing a cleavage-baring frock.
In the interview, Halle opens up about race and how she feels her daughter Nahla will have to choose for herself.
Article continues below advertisement
"I think that's something she's going to have to decide. I'm not going to put a label on it," Halle tells Ebony. "I had to decide for myself, and that's what she's going to have to decide — how she identifies herself in the world."
"And I think, largely, that will be based on how the world identifies her. That's how I identified myself."
But Halle does believe that Nahla is black based on the "one drop" theory she holds to be true, which means an individual is black if they have one drop of African ancestry.
"But I feel like she's black," she shares. "I'm black and I'm her mother, and I believe in the one-drop theory. If you're of multiple races, you have a different challenge, a unique challenge of embracing all of who you are but still finding a way to identify yourself, and I think that's often hard for us to do."
Article continues below advertisement
TMZ recently reported that Gabriel has quite a different theory, believing his daughter is white, and he's lashing out against anyone who suggests otherwise.
According to a report from TMZ, Gabriel would go crazy whenever he read a story that referred to Nahla as "black," insisting that she is white.
Allegedly, Halle's ex would go as far as demanding a "retraction" of the race references about his daughter.
Halle doesn't seem to address Gabriel directly in the Ebony interview, but the actress does tackle the race question.
Regardless, she tells the mag her job right now is to be the best mom she can be.
"Being a mother is probably the most important thing in my life right now," she says. "Career is important, but nothing really supersedes my role as a mother. That's the most important thing I'm going to do in life at this point."