NEWS
Halle Berry's New Sexy Scent and Style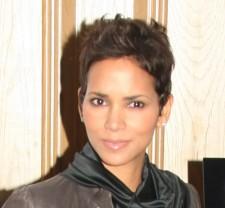 Halle Berry has it all: iconic beauty, an Academy Award and a happy family. Still, one thing is missing: "I've always wanted my very own fragrance, one that defines who I am," Halle told OK!. In an OK! exclusive, Halle shares her style secrets and beauty tips and talks about her new fragrance Halle by Halle Berry.
The stunning actress and doting mom of 19-month-old daughter Nahla with her gorgeous boyfriend Gabriel Aubry finally has the sexy scent that she's been seeking for. "And because the scent you wear says a lot about you, I've taken the time to choose the one that's just right for me," she told OK!.
Article continues below advertisement
How is the fragrance an extension of your personality?
As I've gotten older, I've become more in touch with my sexuality. I feel more free, and I like expressing it. I love this fragrance because it's very sensual, sexy and playful, on top of being exotic and fruity.
Describe your personal style.
It all depends on my mood and how I'm feeling at that time in my life. But there's always a simplicity to my look — I don't like getting overly done-up.
What's your beauty mantra?
I'm not one of those people who opts for plastic surgery, so my philosophy is to take care of what you have. I'm really serious about my skin-care regimen at night. I never ever go to bed — or even nap — with makeup on.
Are you high or low maintenance when it comes to your beauty routine?
I'm a fanatic about skin care, but when it comes to makeup, I'm not. Some days I'll go out with no makeup on and not even care, because I don't have the time to be that concerned about it.
Article continues below advertisement
Can you share some of the top beauty tips you've picked up along the way?
Don't wear too much makeup, because you can ened up looking like a man in drag! And learn how to line your lips.
Are you into experimenting with your look?
I went back to short hair after having long hair for five years. That's the beauty of being a woman right now — you can change up your look any way you want because there are no limits. It's acceptable to have short hair one day and long the next.
Are you planning a follow-up fragrance?
I'm a big orchid lover, so I'd love to do something tied to my favorite flower. If you walk into my house any day of the week you're guaranteed to find orchids somewhere.
By Michelle Edgar