NEWS
Halloween Bonanza!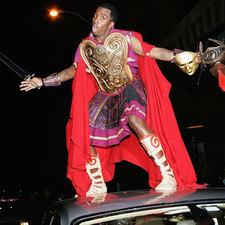 In Tuxedo, NY at the site of the Renaissance Faire, lives the yearly creepfest known at the Forest of Fear. Most of the scares take place in the slaughterhouse, filled with haunts like vampires, ghouls and the uinknown the slaughterhouse uses darkness and the unknown to terrufy your senses.
Mind you, the creeps are old-fashioned and they don't rely on the absurd to get a scream out of you. When most haunted houses are going for gimmicks, the Forest of Fear is going for scary. And that's what makes it fun and frightening, and worth the trip.
Article continues below advertisement
There are very few legitimate hanuted houses out there and this is one of them. It is a muct have spookfest for lovers of Halloween.