NEWS
Halloween Costume Inspiration: What Are Celebs Planning?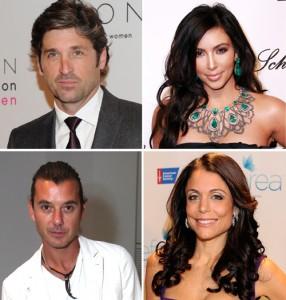 Still not sure what to be for Halloween? While there are bound to be plenty of Lady Gagas, Justin Biebers, vampires, Mad Men and Jersey Shore guidettes trick-or-treating, if you don't want to dress up as your favorite celebrity, you can always steal their costume ideas.
Take a look at what celebs told OK! they're planning for their 2010 Halloween disguises, and then hurry up and get shopping already!
Article continues below advertisement
AnnaLynne McCord: "I have my entire group going as, dramatic pause … Alice and Wonderland! I will be the white queen and Angel will be Alice."
Peter Facinelli: "I think I'm going to be Justin Bieber… My worst Halloween costume has been a mummy. I got unraveled half the night through and I was semi-naked."
Gavin Rossdale: "I have a Batman outfit. Don't tell anyone! Don't give it away!"
OK! GALLERY: BIRTHDAY GIRLS KIM & CIARA 1, 2 STEP OUT IN NYC
Cassie Scerbo: "I wanted to be Snooki, but I feel like everybody's gonna be Snooki. But I'm Italian, from New York, and I can totally pull it off. I know that personality type. I just need to like dye my hair brown or something or put on a wig."
Kim Kardashian: "I have so many costumes I can't decide! My Princess Jasmine costume from last year or my Minnie Mouse that I was in Kindergarten were my favorite."
Article continues below advertisement
Kourtney Kardashian: "I was thinking, maybe (Mason) could be Sebastian and I could be the Little Mermaid, but I don't know. Scott's parents bought him a spider costume, so he'll wear that at some point."
Patrick Dempsey: "I think I'm assigned to be a Power Ranger."
Mark Salling: "Some of the Glee guys and I are talking about going as the Power Rangers." A common theme, it seems!
Ali Fedotowsky: "I have been trying to convince my good friend and stylist to be a Teletubbie with me because her and her boyfriend were going to be Teletubbies, and me and Roberto were going to be Teletubbies, and we were going to go as the four Teletubbies. ?It's cool because it was cool five years ago! It would be cool because we'd be so dorky."
OK! EXCLUSIVE: INSIDE ALI & ROBERTO'S NEW HOME
Jay Sean: "I might dress up as Birdman from Cash Money or The Situation. My abs are alright. I don't think I'm going to need to buy his abs suit. I'm going to try to out-abs him!"
Audrina Patridge: "This year I don't really know what to call my costume, but Corey Bohan is going to be Beetle Juice. We wanted to match so I am going to try to be a Beetle Juice girl, but its almost a mixture of Beetle Juice with the black and white stripes and red with a Victorian outfit mixed in. It's hard to explain. I have someone making it for me."
Article continues below advertisement
Alyssa Milano: "My husband's partner at CAA has this big Halloween party every year and I love it. I am a fairy every year. This year I am going to be a Goth fairy and last year I was a garden fairy!"
Bethenny Frankel: "We're probably going to do a family of pandas by day and clowns by night. We're going in Long Island because I don't want apartment candy. I want like real suburb candy."
OK! NEWS: REAL HOUSEWIVES SPILL TO OK! — TERESA GIUDICE TALKS SPIN-OFF, HALLOWEEN
Kelly Rutherford: "We just got the shark costume from Pottery Barn and then my daughter tried on the Lady bug, and we have Buzz Lightyear, Spider-man. I'll be dressing them up so by the time that's done – but I'll throw on something. We have a superman costume that I may put a big 'W' on!"
Victoria Justice: "I want to do something completely different. I might do a DIY costume and be a One-Eyed Flying Purple People Eater."
Article continues below advertisement
Mike Posner: "Maybe the Flash, maybe Donatello from the Ninja Turtles."
Shar Jackson: "(My son) Kaleb is going to be Buzz Lightyear, Kori is Minnie Mouse. Cassie's a Ninja Turtle, Donnie is Wolverine and I'm Black Widow."
Chelsea Staub:"I'm going to be Goldie Hawn from the Laugh In days. I'm actually wearing the little go-go boots, and the bikini, and someone is painting my entire body, so it will be very interesting and probably very cold.
Amare Stoudemire: "I'm gonna be Scream, might be the tallest Scream ever, but I'm gonna imitate him."
Reporting by Laura Lane, Gena Oppenheim, Rachel Levine, Patty Ramos, Jenn Hoffman, Elizabeth Rosselle, Darla Murray and Amanda Champagne