NEWS
Halloween Queen Heidi Klum's Best Costume Tips & Tricks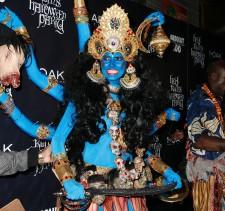 Anyone who's ever seen Heidi Klum out on the town for Halloween knows this mom of four is an expert on putting together the best costumes, so if you're looking for inspiration, look no further!
With the help of MSN Lifestyle, Heidi has put together her top 10 list for the best tips and tricks when it comes to getting ghoulish or dolling up for All Hallow's Eve.
Want to be the prettiest little bride of Frankenstein? Don't overdo the dead look.
Article continues below advertisement
"You can singe the veil a little bit and rip the dress so you really look like you come from the dead. Make it look old and dirty with some black, brown and grey paint," advises Heidi. "Stay pretty but a bit scary and white in the face."
Looking to go for all out body paint? Pack an umbrella!
"It's a tough one to pull off and could be a little chilly in October, but when done right, it's spectacular," dishes Heidi. "And let's hope it doesn't rain!"